This is about the Molly Weasley from the Rose Weasley Chronicles by Cathylove. For Cannon information, go here.
Molly Weasley is the oldest daughter of Percy and Audrey Weasley, and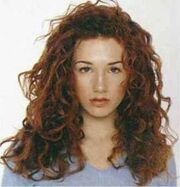 a Gryffindor fifth year prefect. Molly has a younger sister,
Lucy Weasley
, who is in Ravenclaw and really looks up to her father.
Molly is named after her paternal grandmother.
Molly and her sister Lucy are in Gryffindor and Ravenclaw. Sisters Padma and Parvati Patil were also in Gryffindor and Ravenclaw, not to mention their cousins Domi and Vicky Weasley